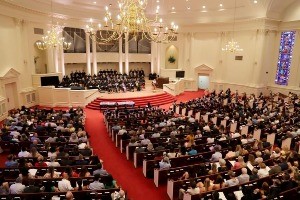 The Dental College of Georgia honored 97 doctoral graduates during the hooding ceremony held at First Baptist Church on May 12. The event featured advice and wisdom from DCG leadership, a thoughtful ceremony in which graduates were hooded by faculty or family members in the dental profession, and a celebratory reception for family and friends, complete with a photo booth from Health Center Credit Union.
Interim DCG Dean Dr. Nancy Young shared her hope that alumni will take their hearts for service into their professional lives: "It takes all of us to make a difference. Remember to also give back to others."
Dr. Kevin Frazier, DCG Vice Dean, also praised the charity of the class. "During the last four years, combined, this class has provided well over 1000 hours of community service locally, statewide, nationally and even globally," he said. Frazier shared that dentistry gives students the opportunity to serve others in numerous ways.
Guest speaker Dr. Van Haywood, Professor Emeritus in the Department of Restorative Sciences, advised students to focus on doing the right thing. "You can't help all the patients in the world, but you help people one patient at a time, and you never know the kind of impact you will have in their lives," he said.
2023 Dental College of Georgia Class President, Dr. Eric Wilkins, spoke about the bonds created between classmates through shared experiences and shared struggle: "We will remember each and every member of our graduating class with a fondness and perspective of mutual respect that is lifelong and unquestioned."