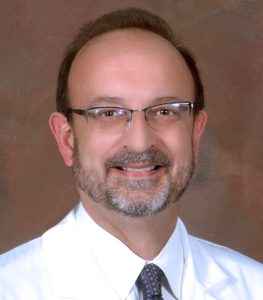 The Dental College of Georgia at Augusta University has appointed Dr. Brent Haeberle, Associate Professor, as Interim Chair of the Department of Restorative Sciences. Dr. Rafael Pacheco, Associate Professor, will serve as Interim Co-Chair. The DCG has launched a full national search for the new department chair.
Dr. Haeberle joined the DCG faculty in 2011 as an Assistant Professor. Since 2020, he has served as Section Director for Removable Prosthodontics. During his tenure, he has received multiple awards for teaching, including The DCG Teaching Excellence Award in 2022, and the Outstanding Faculty Award in 2020.
Haeberle also serves on several committees and works as a reviewer for multiple journals, including the Journal of Prosthetic Dentistry and Decisions in Dentistry. Most recently, Haeberle was honored with the 2022 MVP award by the Student Academic Review Committee.
Prior to joining The DCG, Haeberle served as a Clinical Assistant Professor in the University of Louisville School of Dentistry from 1987 to 1993, and as an Assistant Professor from 1993-2000. He worked in private practice before rejoining academia in 2011.
Haeberle earned a Doctor of Dental Medicine from the University of Louisville in 1982. He completed a General Practice Residency at the University of Kentucky in 1984 and earned a certificate in Prosthodontics from the University of Illinois at Chicago in 1986.
Pacheco joined The DCG faculty in 2022, coming to us from the University of Detroit Mercy School of Dentistry, where he was an Associate Professor and Division Director for the Division of Clinical Essentials and Simulation. He earned his PhD, MDS, and DDS from the State University of Campinas in São Paulo, Brazil.
"We are grateful to have Dr. Haeberle and Dr. Pacheco lead the department during this transition, and I know that they will do an excellent job supporting DCG students, residents and faculty in pursuing their education and research goals," said Dr. Nancy Young, Dean of The DCG. "We have been very lucky to have the gifted stewardship of Dr. Kim Capehart, Chair of the Department of General Dentistry, who served as Interim Chair while we determined leadership strategies going forward."