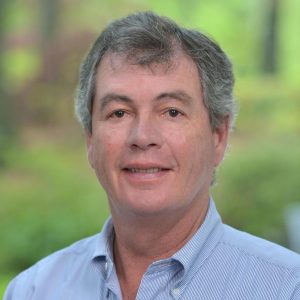 Erwin C. Reid, a longtime executive with Chick-fil-A and a 1983 graduate of the James M. Hull College of Business at Augusta University, recently made a significant gift to establish two named Hull College endowments: the Erwin C. Reid Internship Scholarship Endowment and Erwin C. Reid Study Abroad/Away Scholarship Endowment.
Based on his own college and career experience, Reid recognizes the benefit of experiential learning and the need to support students who are completing unpaid internships. Focused on these two areas, the Reid funds will be available for application to students pursuing a Bachelor of Business Administration or Bachelor of Business Administration in Accounting.
Reid recognizes that doors were opened for him because of attaining a college degree. "I felt passionate to make this gift to AU because it was the perfect place to help me keep my education on track," states Reid, who has been described by those who know him as hardworking, intelligent, persevering, enthusiastic, loyal, and now philanthropic. "The size (of the college) and having direct access to the many professors that impacted me, was key to helping launch my career," Reid added.
While enrolled in the business school, Reid distinguished himself early on through a strong work ethic, carrying a 50- to 60-hour workload on top of classes and assignments. Even with such a grueling schedule, Reid managed to complete his BBA in just five years.
Reid's job on the frontline at Chick-fil-A's Augusta Mall location afforded him Sundays off to study, since the retail food chain is closed on Sundays, in keeping with CFA founder Truett Cathy's Christian faith.
A unique opportunity in the career development program at Chick-fil-A surfaced during Reid's senior year. In February 1983 Reid braved a rare Southern snowstorm to drive from Augusta to Atlanta to interview with Bubba Cathy, the founder's son, who was then the senior vice president at CFA. Reid got the job.
CFA leaders were likely impressed with the young man for his determination to earn a college degree, ability to multitask, high energy level and commitment to the company's brand – perhaps most evident when he donned the costume of the (then) mascot, Doodles the Chicken, as part of his internship. This duty was part of a strategy that he and his fellow "Blitz Team" marketing members employed to increase business at low-performing locations. Reid put his personal skills and his Hull College business knowledge to work.
Reid has enjoyed a rewarding career spanning four decades at Chick-fil-A. He has worked in the operations and international divisions and is currently serving as CFA's senior vice president for International Development in Atlanta, where the company is headquartered.
"Hard work and good timing is a recipe for success," explains Reid. "AU gave me the opportunity to get a formal education while pursuing my passion to work."
Reid counts himself extremely fortunate to have landed an hourly job at Chick-fil-A at the same time he began pursuing his business degree.
"I started an hourly job with a startup restaurant company that has grown into a 3,000-unit chain with revenues topping $17 billion," said Reid, who was invited back to Augusta University four years ago to be the featured speaker of the Russell A. Blanchard Distinguished Lecture Series in Ethics – an annual event sponsored by the Hull College of Business. The title of his 2018 presentation is telling, "More than a Chicken Business: Why Values Matter in Leadership."
That same year, Reid was named a Distinguished Alumnus of the Hull College of Business. Each year during Alumni Weekend, distinguished and outstanding alumni from each college are honored for their dedication to the university and their chosen fields. Through these awards, the Alumni Association expresses its deep appreciation and admiration to alumni like Reid who bring honor not only to their alma mater, but also their communities, states, the nation, and the world.
As with most philanthropic gifts, it will be difficult to measure the extent of the impact Reid's gifts will have on future generations. No doubt these two scholarships will benefit other enterprising students who will follow in his footsteps as high achievers, driven to succeed.
To find out more about these and other Hull College of Business scholarship opportunities, please contact Philanthropy & Alumni Engagement at 706-721-4001 or philanthropy@augusta.edu.