Communication students Liz Wright and Emily Flewellen took first and second place, respectively, in the undergraduate research competition at the American Journalism Historians Association Southeast Symposium in Panama City, Florida, on Feb. 4.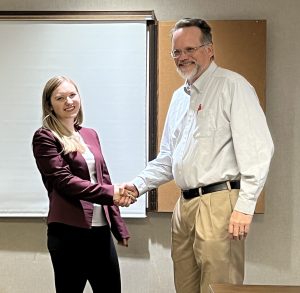 Wright's "Frederick Douglass vs. William Lloyd Garrison: An Exploration of Differing Opinions on Ending Slavery" examines how two major abolitionist editors framed the ending of slavery and how their reputations were largely shaped by this issue. Douglass stated that abolition had to be changed from within, while Garrison felt New England should secede from the Union and move on with a new country and a new constitution. Wright wrote her paper in a media history class at AU in Spring 2022.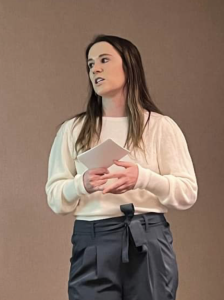 Flewellen will present her paper titled "The Launch of Southern Living: A Historical Look at Its Magazine Covers." This study analyzes the primary themes of the magazine—food, garden, and travel—as creating a certain mood in its reader, thus exploring mood management theory in the process. Flewellen's paper, which looks at the text on the magazine's cover, is part of her honors thesis project.
"We are excited for both Liz and Emily," said Professor David W. Bulla, the Communication chair who also presented a paper at the conference. "Both papers were excellent, and their presentations were maybe even better. I think this speaks volumes about how well our Communication professors prepare our students for public speaking situations."
Professor Bulla talked about research he has done on The Loyal Georgian newspaper, which was started in Augusta just after the Civil War. He detailed how the newspaper focused on the Black community of Augusta, emphasizing employment and voting rights. The newspaper was published by two men, John Thomas Shuften, an Augusta barber, and John Emory Bryant, who was in the Freedmen's Bureau.
Professor Emerita Debbie van Tuyll also participated in the conference. She talked to attendees about the scholarly journal that she and Bulla edit. It is titled The Southeastern Review of Journalism History, and it features student and faculty research, as well as book reviews. It is co-sponsored by the Pamplin College of Arts, Humanities, and Social Sciences and AJHA. Professor van Tuyll encouraged attendees to submit their conference papers, as well as future work.
Conference attendees were from Augusta University, the University of Alabama, Mercer University, Samford University and the University of Florida.