Mandy Pennington started volunteering at Augusta University two years ago. She was inspired to serve after watching her mother go through treatment for Lymphoma and knew she wanted to find some way to help others going through the same challenges. The answer came to her during a visit to the Georgia Cancer Center's gift shop, The Image Boutique. Mandy noticed that the shop was low on staff and struck up a conversation with the shop manager, Sherry Brooks. She told Sherry she'd be back to help after she retired. Mandy kept her word and later returned to AU as an Image Boutique volunteer.
Mandy enjoys being a listening ear for patients that might not always find it easy to share their thoughts with others. "Some come in [the shop] for gifts, some for conversation, some just for hugs" said Mandy when asked what she liked most about her experience.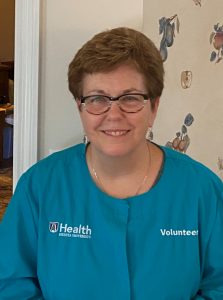 Mandy loves to hear the stories and updates that patients are so excited to share with her and it's not unusual for Mandy to come into the shop to find messages from patients that missed her while she was away. When asked about why Sherry and the Image Boutique are so special to her, she shared, "I am very grateful for the services Sherry provided my mother and I want to be there to support her while she assists others with such great care."
Mandy wants everyone to know that being compassionate to patients gives hope and encouragement for the future.
If you find Mandy's story inspiring and would like to know how you can give back and volunteer please visit our AU Volunteer Services webpage.