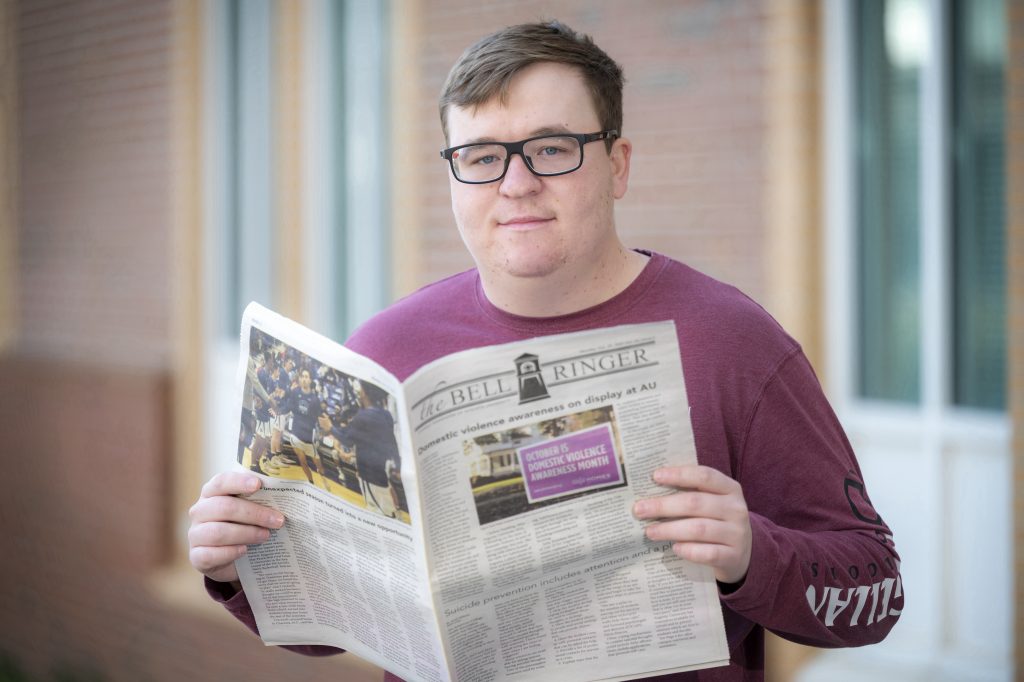 A recent graduate of Augusta University and two current Communication students have won journalism awards for their work in 2022.
Chris Rickerson, who graduated from AU with a degree in Communication in December, won a pair of the Georgia Collegiate Press Association Better Newspaper Awards, it was announced in Athens on Friday, April 7. Rakiyah Lenon and Carlos Rodriguez, both Communication majors, captured Society of Professional Journalists' Mark of Excellence Awards in Region 3 for news and sports writing, respectively.
Rickerson, who served as sports editor of the Bell Ringer in the spring and fall of 2022, won GCPA awards for sports writing and photography. He won the GCPA Better Newspaper Award for best sports photograph in the large newspaper category for his work at the NCAA Division II men's basketball Elite Eight in Evansville, Ind., in March 2022. He also won best sports story for his article about the retirement of long-time AU Athletic Director Clint Bryant.
A Grovetown High School alumnus, Rickerson was competing against students from larger universities, including the University of Georgia's Red and Black newspaper and the Emory Wheel.
"It's an honor to be recognized and awarded by GCPA," Rickerson said. "I couldn't have done it without my professors—Dr. (David) Bulla, Professor (Rachel) Balducci, Dr. (Debbie) van Tuyll and (sports photography professor) Dylan Wilson, and many other classmates and professors."
Bulla was happy to see Rickerson win the awards.
"Chris is an outstanding young sports reporter," said Bulla, chair of AU's Department of Communication. "He never said 'no' to any assignment, and he was lucky that AU men's basketball Coach Dip Metress was willing to take him to the national championship tournament. Chris also did himself a big favor and immersed himself in sports photography in Professor Wilson's class last spring. This served him well in Evansville and then again in the fall covering high school football."
Rickerson, who covered sports for The Augusta Press last fall, also has been working for CBS Sports during the Masters golf tournament at Augusta National. He joins a growing list of AU graduates who working in the sports communication sector of the economy, including Tyler Strong for the PGA Tour, Leeroy Francis Jr. for Warner in Atlanta and Will Cheney as sports writer for the Augusta Chronicle. Stacie McBride, who owns her own marketing company, does social media for a variety of sports events, including the Kentucky Derby.
The awards ceremony was held at the University of Georgia's Russell Library.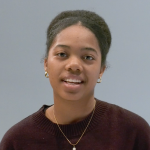 In the SPJ regional contest, Lenon, a junior and the editor in chief of the Bell Ringer, won for her story titled "AU sociology class visualizes number of homicide cases in sidewalk chalk display." The article showed how Professor Kim Davies' SOCI 3187 class showed the degree of homicide deaths in the United States by tallying up the deaths for a recent year with chalk on the sidewalks of the Summerville campus.
Rodriguez, a senior who was co-editor in chief of the paper when he wrote his award-winning article, was cited for his story titled "Arnold's last-second heroic 3-point shot sends Jaguars to Elite Eight." The story was about the Jaguar men's basketball team defeating Queens University in the regional final on Miguel Arnold's late three-pointer. That propelled AU to the Elite Eight in the NCAA Division II playoffs. The Jaguars eventually lost in the national championship game.
"Rakiyah and Carlos are two wonderful young journalists," Bulla said. "Rakiyah has also interned for the Augusta Press, and Carlos is an amazing videographer whose work on Instagram has a large audience. We are lucky to have both of them at Augusta University.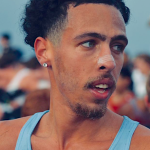 Rodriguez, who has severed two stints as sports editor of the Bell Ringer, has his own videography company called CRod Films. He has done internships with AU Athletics and the Peach Belt Conference. The Grovetown High School product also runs cross-country and track for the Jaguars. He advanced to the NCAA Division II national cross-country championships last fall in Seattle. He handles the Instagram account for the AU men's basketball program. He has also covered games at Georgia Tech, University of Georgia and Clemson University.
Rodriguez began writing for the Bell Ringer when he was a senior in high school. At that time, he was also a reporter for Grovetown High's Warrior Wrap-up student newspaper. He also has done free-lance work for the college basketball website Slam.
The SPJ Mark of Excellence Awards were announced on April 11 by the SPJ office in Indianapolis.