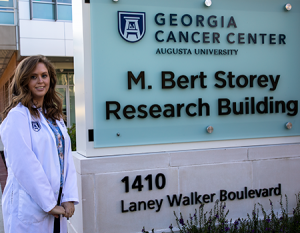 Alyssa Smith Merting
Degree: Doctor of Philosophy with a major in Biochemistry and Cancer Biology
Hometown: Morganton, NC
Mentor: Kebin Liu, PhD
Area of Research: Cancer, Immunology, Biochemistry, Immunotherapy
Project Description: I work primarily on colon cancer looking into potential immunotherapy applications. The main focus of my research is the epigenetic pathways involved in tumor suppression specifically looking at myeloid derived tumor suppressor cells, which are abundant in tumors and tumor models.
Why did you choose your degree program (and biomedical research at AU)?
When choosing a graduate program I looked at a few different schools, but AU had the most diverse and clinically relevant program I had seen. The Biochemistry and Cancer Biology (BCB) graduate program works very closely with practicing clinicians making easy to have a clinician on your committee or to collaborate with. I chose the BCB program because of the collaborative environment throughout the department.
What is the greatest lesson or words of wisdom you have learned from your mentor? 
Becoming a master of the basics and techniques will allow you to move on to any position you want after graduation. I am uncertain if I will stay in cancer research post graduation, but I do know the techniques I am learning and will learn in my lab are things I can use in any research field in the future.
What have you found most beneficial and enjoyable about your program?
The BCB program is very collaborative. It is really nice to be in a department where it is not only welcome but encouraged that you collaborate with those around you. I know that if I have a question about a technique another lab uses I can easily go and ask them about it and they will show me how to do it and give me any pointers they have learned.
In addition, the BCB program offers numerous opportunities for graduate students. My favorites are seminars with scientists from all over the country and the student focused breakout sessions where we can ask the speaker not only about their research but about their career paths.
Have you been involved in any other AU clubs, groups, activities, committees?  If so, which ones?  What positive experiences have you had as a result of your involvement/engagement?
I am a member of the Biomedical Student Association at AU. The BSA up until 2020 (due to COVID19) was doing monthly get togethers. The monthly social hours were a very nice way to see people in other labs and discuss graduate student life with other people who understand.
What is your Favorite AU memory?
My favorite graduate school memory was the spaghetti social the BSA held my first year in the program. It was a lot of fun to get to know the upperclassmen over plates of spaghetti.
My favorite lab memory, was our trip to San Diego, CA for the American Association of Immunologist Meeting in May 2019. It was the first time I had been to California and just a lot of fun listening to talks by top scientists in the field and exploring San Diego.
What do you do for fun (hobbies etc)?  
My husband and I have two dogs (Bean and Mabel) and two cats (Rabbit and Ghost) so we love taking advantage of all the parks in Augusta. We take the dogs for a long walk by the river or around one of the parks every weekend and then we normally enjoy one of the great local restaurants in Augusta.