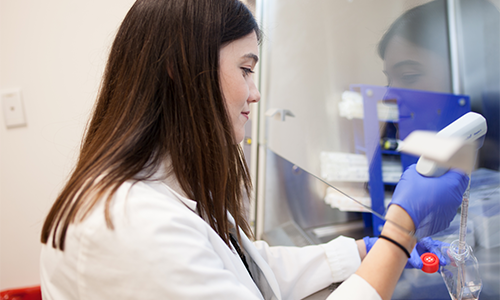 Daley Morera
Program: PhD in Biochemistry and Cancer Biology
Hometown: Bourbonnais, IL
Mentor: Vinata Lokeshwar, PhD
Area of Research:  Biomarker and therapuetic target discovery for bladder cancer
Favorite AU memory:
One of my favorite memories was traveling as a lab to the AACR conference in Chicago this past April. Three members from our lab presented posters and we were able to all support each other and learn about some amazing advances in all areas of Cancer Research together. It was especially fun going to all the vendor booths with our mentor to stock up on ink pens and other free freebies for our lab!
Selected Accomplishments:
I am fortunate enough to have a published article in the British Journal of Cancer regarding a potential novel therapuetic agent (4-methylumbelliferone) for bladder cancer. I have also had the opportunity to present this and other work at the previous two annual conferences of the American Association of Cancer Research, the first in Washington, D.C. and the second in Chicago.
Hobbies: 
I really love my local church and the opportunities it provides to be involved in the community. I also love to go to antique stores with my husband, play with my two dogs (Scout and Oliver), and I love to watch baking competitions and try to copy the amazing creations (this is probably my labmates favorite hobby of mine)!