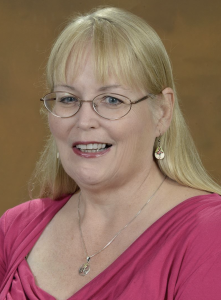 Dr. Debbie van Tuyll has been elected second vice president of the American Journalism Historians Association at AJHA's 41st annual convention in Memphis, Tenn., in October.
Professor emerita in Communication at Augusta University, van Tuyll will serve as second vice president of AJHA during 2022-23, beginning a three-year tenure which will culminate in her serving as the organization's president in 2024-25.
Van Tuyll served on the AJHA board from 2005-2008 and 2016-2019. In 2019, she was awarded AJHA's highest honor, the Kobre Award, in recognition of herexemplary record of sustained achievement in journalism history. She retiredas a full professor from Augusta University in June 2021.
"I'm so excited to serve AJHA as second vice president. This organization hasbeen integral to my career as well as the source of some of my most valuedcolleagues and friends. I look forward to paying back and paying forward allthis organization and those friends and colleagues have done to support methrough my career," said van Tuyll.
AJHA's new president will be Mike Conway of Indiana University, who served as second vice president from 2019-2021, and as first vice president from October 2021-October 2022. 
Tracy Lucht of Iowa State University will serve as first vice president, and Ken Ward of Pittsburg State University will serve as treasurer. Erika Pribanic-Smith of the University of Texas-Arlington will continue as executive director. 
Van Tuyll retired from Augusta University in 2021. She was a long-time member of the Department of Communication faculty. She has her Ph.D. in mass communication from the University of South Carolina. She has written books on the Civil War and Irish-American press. She also serves as the editor of The Southeastern Review of Journalism History, which is house at in the Department of Communication at AU.