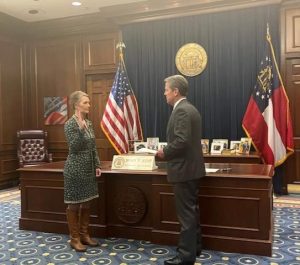 Dr. Nancy Young (DMD, '06), Interim Dean of the Dental College of Georgia at Augusta University, was inducted by Gov. Brian Kemp onto the Georgia Board of Dentistry (GBD) at the board's regular meeting on March 3.
Members of the GBD are appointed by the governor to protect public health in the practice of dentistry by regulating and enforcing the standards of practice.
Young will be one of 11 members in the state who are responsible for protecting the public health in the practice of dentistry by ensuring that standards are met across Georgia. Through the licensure process, the GBD ensures that those applying for licensure in this state as a dentist or dental hygienist have acceptable education, training and personal character to safely practice in Georgia. In conducting its regulatory functions, the board sets and defines standards to draw the line between safe and dangerous dental practices.
Young joined the DCG in 2012 as an Assistant Professor and rose to Assistant Dean for Student Affairs in 2018. She earned a BS in Health and Physical Education ('98) from East Tennessee State University and a DMD from the Dental College of Georgia. She also earned an MED in Educational Psychology from the University of Georgia ('18).
While at the DCG she has earned several awards, including the 2017 DCG ASDA Advocate Award, 2017 International College of Dentists Outstanding Faculty Member, 2017 DCG Outstanding Faculty Member and 2017 MVP Faculty Award.
She is a member of the Hinman Dental Society, the International College of Dentists, the American Dental Association and the Georgia Dental Association.