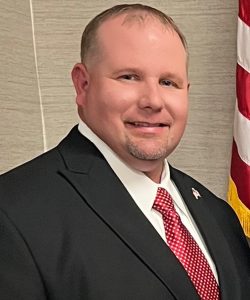 Dr. Michael "Kris" Frazier (Class of 2008), owner of Rochelle Family Dentistry in Rochelle, Georgia, recently presented at the 2023 Georgia Public Health Association (GPHA) Virtual Workshop and Meeting in Atlanta.
Dr. Frazier presented on his experiences in working, living, and providing community outreach in Rochelle, population 1,167, located in Wilcox County, Georgia, about an hour south of Warner-Robins and an hour east of Albany. He offered the GPHA valuable insight and wisdom with his presentation "Navigating Rural Dentistry," in which he discussed dental health disparities in rural Georgia, the challenges he has faced, strategies to maintain a successful practice and what he has done to try to address oral health needs in Rochelle and the surrounding area.
Frazier is an Assistant Clinical Professor at The DCG and mentors senior dental students about practicing in rural Georgia through the through the Georgia Statewide Dental Clerkship Program since 2015. He has served as an investigator for the Georgia Board of Dentistry and on the Board of Directors for the Georgia Baptist Mobile Health Ministry. He is Chairman of the Board of the Wilcox County Chamber of Commerce.