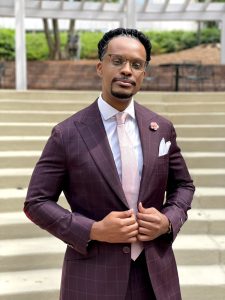 DCG alum Dr. Raymond Dickey (DMD, '13) recently jumped into action to assist passengers on a Delta flight from Las Vegas to Atlanta after the plane got stuck on the runway without any air conditioning for four hours.
Dickey said he and two nurses who were aboard the flight stepped in to render aid to several people who passed out on the plane due to the heat. They gave the passengers oxygen, checked their vital signs and elevated their legs. A photo of him helping passengers went viral. Watch the story here.
A board-certified oral and maxillofacial surgeon, Dickey practices at Northwest Oral & Maxillofacial Surgery in Marietta, Georgia. He is a member of the American Dental Association, Georgia Dental Association, American College of Oral & Maxillofacial Surgeons and is a Diplomate of the American Board of Oral and Maxillofacial Surgery.
He is a native of Roberta, Georgia, attended Fort Valley State University, then The Dental College of Georgia. While in dental school, he received honors and awards, as well as being a member of the Admissions Committee for three years. Most recently, he served as the keynote speaker for the 24th Annual Impressions Program held at The DCG in February.