Dental College of Georgia Continuing Education gained another star when Cathy Mason-Smith accepted the position of Continuing Education Coordinator and transferred from the University of Georgia. In her role, she will plan and execute opportunities for faculty and alumni to strengthen their professional skills and to add new skills to their repertoire. The DCG is an American Dental Association Continuing Education Recognition Program, and offers dozens of courses in to benefit Georgia dentists.
Mason-Smith is also familiar with another kind of course. Before joining the University System of Georgia, she spent 25 years as Golf Operations Manager and later as the Event Services Manager for Food and Beverage at Savannah Lakes Golf Clubs in McCormick, South Carolina.
"After more than 25 years of planning and organizing events around sports and the outdoors, I'm so thrilled to be able to bring my experience to the DCG's Continuing Education programs," Mason-Smith said. "I'm looking forward to continuing to provide friendly and welcoming hospitality to the staff here at AU. I'm also looking forward to joining or hosting a Fantasy "Dentistry" Football League here at the DCG."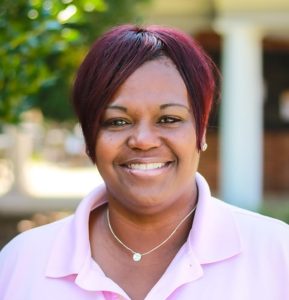 Mason-Smith is a graduate of Brenau University in Gainesville, Georgia, with a degree in Business Administration and a concentration in Strategic Management & Leadership. Outside of work, she enjoyed playing golf left-handed or preparing for fantasy football season.
She loves to spend time with her family, loves journaling, and co-parents Bella, a nine-year-old Staffordshire Bull Terrier with her mom.