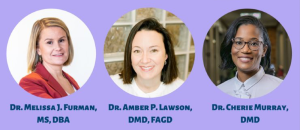 The DCG Chapter of American Association of Women Dentists will host the AAWD Annual Women's Leadership Conference on Saturday, March 25, from 8:30 a.m. to 1 p.m. in the AU Health Sciences Building, EC-1204. Each year, the AAWD invites professional women in dentistry to share their knowledge and experiences with DCG students. This year, Dr. Amber Lawson, 2023 Vice President of the Georgia Dental Association and owner of Signature Dentistry of Macon, Georgia, and Dr. Cherie Murray, dentist at Christ Community Health Services Augusta, will speak to attendees about their professional experiences.
The event will culminate with an interactive seminar session on women's leadership, led by Spotlight Speaker Dr. Melissa Furman, former Assistant Dean and Professor at the AU Hull College of Business and founder of consulting company Career Potential. Furman was awarded "Faculty Member of the Year" by the AU Student Government Association, designated as a "Top 10 in 10 Young Professional to Watch" by the Augusta Metro Chamber of Commerce and nominated for Georgia Trend Magazine's "Top 40 Under 40".
Lunch will be provided afterwards for an extra opportunity to engage with these astounding members of the Georgia community. Click here to register to attend.