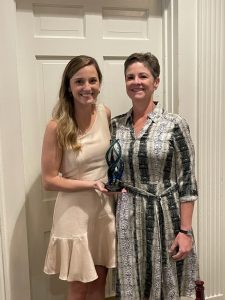 One Dental College of Georgia resident was recently awarded the coveted Dr. Connie L. Drisko Dental Resident Professionalism Award. Open to all residents, the award honors the DCG's former dean, and recognizes a resident who provides outstanding patient service, accomplishes high clinical productivity, demonstrates dedication to community and professional service and achieves academic excellence.
This year, Dr. Claire Walker (photo left), a second-year Pediatric Dentistry resident, was recognized with the award.
Dr. Michael Milano, Associate Professor of Pediatric Dentistry and Resident Program Coordinator, nominated Walker, praising her professionalism, technical skill and compassion: "Dr. Walker seems to effortlessly see each dental visit from the child's point of view thus allowing her to make a true connection with them. She can understand their anxiety which allows her to help them work through their fear," he said.
Walker established excellent relationships with colleagues, expedited care for patients with underlying health issues and routinely earns praise from her patients and their families. In addition, she volunteered generously with Give Kids A Smile Day, the 2021 Boys and Girls Club dental screening series, and also with the Child Life Service at the Children's Hospital of Georgia.
Advanced education program directors were invited to nominate a resident from their respective programs, and the dean's leadership team selected the awardee from the list of nominees. The award includes a blown-glass piece of art with the individual's name engraved on it,  as well as a monetary award of $2,000,