Dozens of DCG family memb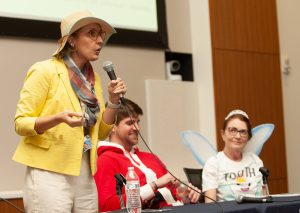 ers attended the second annual DCG Raft Debate on Feb. 16 in the J. Harold Harrison, M.D. Education Commons, hosted by the AU Office of Philanthropy & Alumni Engagement. The entertaining event was sponsored by Komet USA, which is celebrating 100 years of business, and generously provided various snacks and refreshments.
The event pitted Dr. Cynthia Hipp, Associate Professor in the Department of Pediatric Dentistry; Dr. Ana Carolina Morandini, Assistant Professor in the Department of Oral Biology & Diagnostic Sciences; and Dr. Joshua Jernigan, Resident in the Department of Orthodontics, against one another to argue in favor of being saved from a deserted island based on the worthiness of their specialty. Their arguments were complicated by Dr. Kevin Frazier, DCG Vice Dean, who played Devil's Advocate. Dr. Regina Messer, Associate Dean for Admissions and Interim Associate Dean for Student Affairs, moderated the debate.
The debaters were funny, witty and playful, and the audience was interactive. Panelists dressed up for their parts, in sunglasses, a Santa suit and a tooth fairy costume. Ultimately, the winner of the debate was Dr. Morandini, representing the periodontics specialty. The event was free and open to all AU students, faculty, staff, and residents.