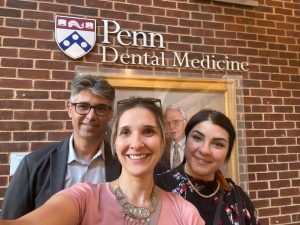 Researchers from The DCG presented their latest work at the 6th Penn Periodontal Conference 2023, held at the University of Pennsylvania. The conference is a biennial forum to exchange the latest research on the breadth of clinical, translational and basic sciences in periodontology.
Dr. Ana Carolina Morandini, Assistant Professor in the Department of Oral Biology and Diagnostic Sciences, spoke about her work, "Mitochondrial biogenesis drives adenosine control of inflammation-associated gingival fibroblast state." Dr. Erivan Ramos-Junior, Assistant Professor in the Department of Oral Biology and Diagnostic Sciences, talked about his work, "O-linked N-acetylglycosamine-transferase (OGT) inhibition disrupts osteoclastogenesis: insights into metabolic reprogramming." Dr. Ranya El Sayed, Assistant Professor in the Department of Periodontics, presented her work, "Microbially induced exosomes in the oral cavity cross the blood brain barrier and contribute to Alzheimer's disease pathogenesis." El Sayed also served as a moderator for oral presentations.
The program is specifically designed to bring together leaders in periodontal research and included a mix of renowned speakers and junior investigator, offering a great opportunity of interaction among researchers in our field. The conference included speakers from around the world in the areas of cellular and molecular mechanisms of periodontal disease pathogenesis, host-microbe interactions and inflammation, bioengineering and tissue regeneration, new treatment modalities, and the connection of periodontitis to systemic comorbidities.