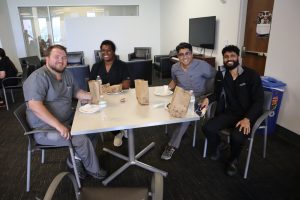 The DCG recently held its first unified resident graduation lunch to celebrate and honor the remarkable achievements of our graduating dental residents. The lunch, organized by the Dean's Office, utilized the casual atmosphere of the dental student lounge in the Education Commons to create a relaxed and collegial environment, including ping pong and music. Lunch was provided by the Diablo's Southwest Grill catering team.
The combination of good food and music fostered an atmosphere of companionship where faculty, residents and staff could embrace their lasting connections and shared successes. Laughter and friendly banter filled the air as participants displayed their ping pong skills and enjoyed spirited matches, celebrating camaraderie and enjoying lighthearted fun.
Congratulations again to all of our 2023 resident grads!