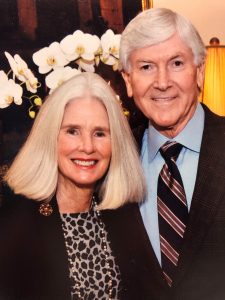 "It was love at first sight and the best thing that ever happened to either of us!" Dr. George Wright and his wife Camille (Cam) met in the student center cafeteria at the Medical College of Georgia in the spring of 1968. There is a bit of debate over who saw who first (Dr. Wright thought Cam was "giving him the eye," but she tells it the other way around). The couple married in 1970 and have been together ever since. However, there's more to the story than two students falling in love and living happily ever after, even 50 years later – though nowadays, that in itself is pretty remarkable. College was just the beginning for this pair.
Dr. Wright, an Augusta native, had a humble start. "I came from an impoverished background and was fortunate enough to receive a pharmacy scholarship from the University of Georgia," he says. He knew he wanted to go to medical school so with the money he earned working as a pharmacist, he was able to attend MCG and graduate in 1971. From there, he completed an internship at MCG, an orthopedic residency and hand fellowship at the University of Louisville in Kentucky, a hand fellowship at the University of Edinburgh in Scotland and a joint replacement fellowship at Tufts University at New England Baptist Hospital in Boston, Massachusetts.
The couple settled in Atlanta and Dr. Wright enjoyed a long career in orthopedics. He established a private practice at Piedmont Hospital in 1978 and in 1993, he received a faculty appointment at Emory Medical School and was assigned to the Orthopedic Residency at Grady Memorial Hospital. Eventually, he would become the chief of orthopedics at Grady, but it seems Dr. Wright's passion was education. "It was my privilege to work with outstanding young residents for twenty-four years, which culminated in the Georgia Orthopedic Society Distinguished Service Award and the Emory Faculty Teaching Award being designated in my name," said Dr. Wright. He retired in 2016 as Associate Professor Emeritus, Orthopedic Surgery, Emory School of Medicine.
Originally from Atlanta, Cam was also accomplishing great things after moving back to the city. While her degree from MCG was in dental hygiene, Cam went on to run a small antiques business with her mother. It was during this time Cam made a discovery that had a long lasting impression. A cache of Victorian love letters found in a trunk acquired by the antique shop became the inspiration for her debut novel, Anne Aletha, released in late April of this year.
"I fell in love with the couple named Alex and Nellie, and initially I thought I would write their story," Cam explains, "But I soon realized that their story was not mine to tell and that I wasn't ready to tell my own story. Later, when I knew what my story was, I fictionalized the couple, using their original names in my novel." Anne Aletha takes place in 1918 amid World War I, the Spanish flu pandemic and the reemergence of the Ku Klux Klan. When planning the novel's release, no one foresaw that there would be so many parallels to current events.
The Wrights are passionate about education, the arts and kindness to animals. Their philanthropic endeavors reflect as much, with support devoted to MCG, UGA College of Pharmacy, Atlanta Symphony Orchestra, Atlanta Botanical Gardens and the Atlanta Humane Society. Through a planned gift, the Wrights have made a generous commitment to endow the George and Camille Wright Scholarship Fund, which will provide scholarships based on financial need to MCG students.
"Camille and I feel it's our privilege to designate part of our estate to support medical students with financial needs," said Dr. Wright. "We hope our legacy will transform the lives of medical students in perpetuity."