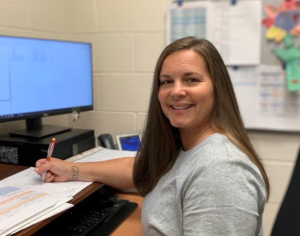 Gail Widener was just 22 when she joined the then-Department of Oral Medicine as an Office Associate. But right from the start, it felt like home.
"The faculty were so nice and genuine. I was young and they were very welcoming," Widener said.
Now, 19 years later, it is still the people at the DCG who keep her engaged.
"I have loved something different about every job I've had at the DCG," she said. In Periodontics, she enjoyed her relationships with patients and residents. And now in the Department of Oral Biology & Diagnostic Sciences, Widener is still drawn to her colleagues.
"Overall, the people are the most important part. You're at work almost more than you're with your family, and you form relationships with your coworkers," she said.
But Widener also loves that every day at the DCG is a learning opportunity. It's one of the reasons she volunteers on the Employee Engagement Committee: "to stay in the know, to be informed, to meet new people, seeing new things, learning about things I didn't know existed," she said.
At a Glance
Name: Tonya Gail Widener
Age: 41
DCG Employment: 19 years
Current Position: Office Specialist
Current Department: Oral Biology & Diagnostic Sciences
Residence: Harlem, Ga.
Married to Adam, a journeyman plumber, for 19 years
Mother of three: Halie, 22, a dental assistant at Thomson Family Dental; Katelyn, 20, a certified phlebotomist at Augusta ENT; and Matthew, 10, starting middle school in the fall
Pets: Izzy, a black lab; Weston, a golden lab; and two cats, Brantli and KiKi
Education: Completing a Business Administration degree at East Georgia State College
Hobbies: Spending time with family, fishing, hunting and riding her grandson around the neighborhood on their golf cart
Fun fact: Her family connections to dentistry run strong. In addition to daughter Halie being a dental assistant, Widener's niece, Courtney McCauley, is a graduate of the AU dental hygiene program!