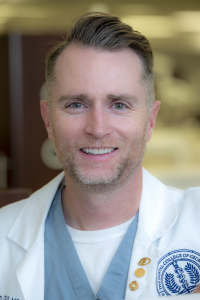 Dr. Todd Schoenbaum, Professor in the Department of Restorative Sciences, was recently elected as a Fellow of the American Academy of Esthetic Dentistry at the annual AAED meeting. AAED is the professional organization for the most accomplished researchers, professors and teachers in esthetic dentistry.
Dr. Van Haywood, Emeritus Professor in The DCG, was invited to present at the meeting by AAED President Dr. Jeff Brucia to present "Tray Bleaching of Difficult Discolorations: Tetracycline-stained teeth and Single Dark Teeth." Haywood is a past Fellow and until recently, was the only full-time faculty member from The DCG to be in the AAED.
Established in 1975, the AAED promotes the integration of dental esthetics into the total spectrum of oral health care. Our elite members perform some of the most sought-after and complicated cosmetic dental procedures available in the world today.