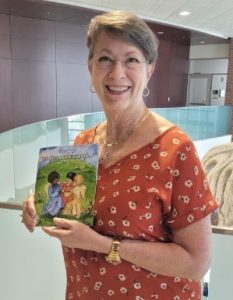 When Theresa Hall, Patient Care Coordinator for the DCG, was raising her six children, she wanted to collect her favorite words of wisdom and life lessons for them. Using her love of art, she started mapping a little anthology of advice.
"I sent it off to see if I could get any interest and got discouraged," Hall said. Life got in the way, and time went by, and Hall all but set the project aside.
At 47, Hall went back to school at AU to get her bachelor's degree in fine arts. While she was studying, Marie Churchville, Administrative Assistant in the Department of Endodontics at the DCG, took notice of her artistic skill. She encouraged her to put her passions to work, and even provided a space in which Hall could paint her story scenes in the mornings before work. Churchville's encouragement over the course of a year, Hall said, was a large part of what kept her motivated to continue her project.
When Hall was ready to publish, she reached out to another AU colleague fr assistance in moving her hand-painted pages, and the collected advice hand-calligraphed by Hall's sister, Ellen McNamara Fahey, to a digital file for Phoenix Printing Group to bind into book. Timothy Williams, Instructional Multimedia Producer in the Center for Instructional Innovation, stepped in to assist.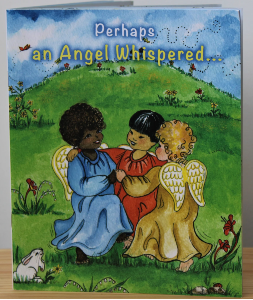 "When we met, I just knew – and he knew – that this was a perfect match," Hall said. "He really brought all the parts and pieces together."
The result is a beautifully illustrated children's book, "Perhaps an Angel Whispered," that contains sage advice and Hall's original artwork. But even for those too young to read, the illustrations tell a story. Together, Hall hopes the little book will inspire adult readers and guide children. Hall calls it a dream come true.
"I really think it was something that I was meant to do," Hall said. "But this isn't me," Hall said. "This is other people speaking through me."
And Hall is already thinking about a sequel that combines global wisdom and faith passages from world religions. She expects to have more time now that her children are older and retirement is closer than before.
The little project that started out as a gift to her children ended up taking 30 years.
But it's just in time for her grandchildren.
Hall's Etsy shop: Etsy.com/listing/1169287736/perhaps-an-angel-whispered