For three decades, the children who visit the DCG's pediatric dental clinic have seen Anita Maruca's smiling face (photo, left) of summery freckles, framed by springy, auburn curls. It's the kind of face that radiates warmth and security.
"Children are honest," Maruca smiled. "If they don't like you or something you are doing, they will tell you."
As a Dental Assistant turned Clinical Support Specialist, Maruca has seen every aspect of patient care. Starting in January of 1992, Maruca's first two decades were spent in the old dental building on the corner of 15th Street and Laney Walker Boulevard, now called Professional Building I. She had rotated through the DCG clinics while a student in the Augusta Tech dental assistant program.
"And I fell in love with it immediately," she said. "Now I've been here so long that I see patients who were here as children and now they are bringing their own children."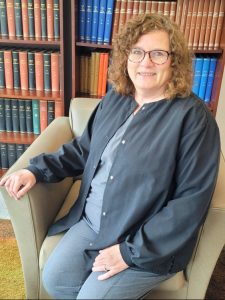 The children aren't the only things that have grown in that time. Dr. Tara Schafer, now Chair of the Department of Pediatric Dentistry, was just a student when Maruca began. The number of residents in the program has doubled. And the DCG has moved from paper charts to electronic records.
But Maruca feels like she has grown and changed with the college. In addition to learning new technology and techniques over the years, she has shifted from a clinical role to an administrative one, and from a small building housing a dental school to a high-tech college with an enormous footprint – both on campus and across the state of Georgia. But it doesn't feel that way to her, even with a 45-minute commute from her home in Jefferson County.
"We're kind of like family here," Maruca said.
Working with people she enjoys keeps her motivated, she said, so much so that she can hardly believe that 30 years have passed.
"It's true that if you love your job, you will never work a day in your life," she said.
So Maruca hopes to keep giving the DCG her best. She'd like to see pediatric dentistry continue to grow and see more patients, and she hopes that parking will improve and the cost will drop. Mostly, though, she wants to see greater unity as a college.
In addition, she has a very full life outside of work, with three children and 31-year marriage to her husband, Dean. Her oldest child, Amber, is a 30-year-old phlebotomist, following a health care career. Like mother like daughter. Amber even used to work in DCG Central Sterilization before shifting course. Her middle child, Megan, is a 24-year-old paraprofessional in Jefferson County Schools, finishing her degree in education, and planning a career working with children. Again, like mother like daughter. Her youngest child, Trent, is a 17-year-old graduating high school this month. And finally, she is proud to have a young granddaughter named Lillian Sue, who makes sure everyone knows that she prefers to be called "Lillie."
"We're all just doing our things," Maruca said, happily.
And Maruca is not quite done yet doing her thing. Her colleagues and the pediatric patients may keep her motivated, but she is most inspired by her 88-year-old mother.
"She is truly my best friend. She's been through a lot in the last few years," Maruca said. "But she never complains and she is quick to speak the truth."
Like mother like daughter.