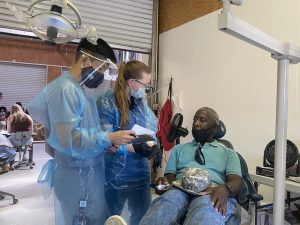 Thank you to the DCG students who volunteered at the Barnyard Flea Market dental screenings clinic, organized and managed by Dr. Kim Capehart, Interim Chair, Department of General Dentistry. In four hours, thestudents screened 51 potential patients, and provided them with information about oral health issues.
Three local media outlets showcased this event and the positive outreach that Dr. Kim Capehart and DCG students provide at the Barnyard Flea Market this autumn. The Augusta Chronicle, WFXG (Fox 54) and WRDW (CBS 12) all came out to tell the story of the DCG's impact on community dental health on Saturday, Aug. 28.
See the Chronicle's story here.
Screenings are open to everyone. Walk-ins are welcome. Visit Booth G10 at Barnyard Flea Market at 1625 Doug Barnard Pkwy from 9 a.m. to 1 p.m. on Sept. 12, Sept. 25, Oct. 16, Nov. 6 and Nov. 21.