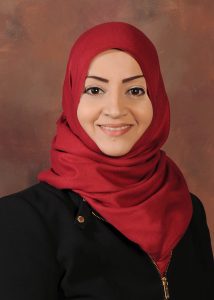 Dr. Linah Shahoumi, Assistant Professor of Oral Biology and Diagnostic Sciences in The Dental College of Georgia, was selected by her dental faculty colleagues to receive the 2023 DCG Outstanding Faculty Award at the AU Spring Celebration of Faculty Event on April 25 in the Greenblatt Library. Her selection was the culmination of a month-long process of nominations from students, residents and faculty and a week-long voting opportunity by DCG faculty to choose one from among the four strong candidates. 
She earned a dental degree from the University of Garyounis (now University of Benghazi) in Benghazi, Libya, and an MS and PhD in Oral Biology and Maxillofacial Pathology from Augusta University. She received several research awards as an AU graduate student and she joined the DCG Faculty in 2019. Her teaching and research interests include Molecular Biology, Cancer Biology, Oral Pathology and Anatomy. 
Her service activities include multiple department faculty search committees, the DCG Curriculum Committee and the Graduate Admissions Committee, and she serves on the editorial boards as a manuscript reviewer for several biomedical science journals. 
She was nominated by the DCG Sophomore Class officers and the concluding comments on her letter stated: "She genuinely enjoys education, she is an amazing role model and anyone who has witnessed her teach can agree- to know her is to love her, and that we do. We cannot think of another faculty member more deserving of this award."