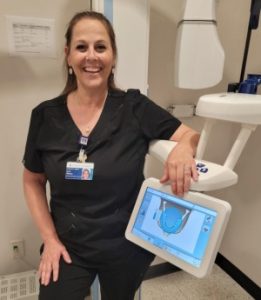 Senior Radiographer Lori Simon spent 13 years as a radiologist with AU Health until she chose to make a change and join the DCG Department of Oral Biology & Diagnostic Sciences.
"I worked 16-hour shifts," she said. "It was great when I was raising my kids because I only worked Saturdays and Sunday. But they're older now and it was time for something new."
The DCG fit that bill, just two blocks away from her old employer but a world away in terms of atmosphere.
"I love coming to work. Everybody here is so nice, from day one," Simon said. Some of the things she loves are that the DCG invests in training and continuing education, along with providing little extras like staff events and lunch meetings. She loves to learn and says she feels newly appreciated.
"At first, I was very intimidated, but I want to know more. I really like the challenge," Simon said.
This challenge is some distance from when she began her career in the first radiology class at Augusta Tech. As a nontraditional student with three children at home, she was looking for a career that would support her family while simultaneously supporting that she had family responsibilities. Nursing seemed like a recipe for suffering.
"I wanted to go into the health care field, but I get emotionally attached to people," Simon said. "Radiology was a way to do patient care without getting too involved."
And this work, she said, gives her a sense of purpose. At the hospital, she was able to see patients when they came in, and when they left. Their progress was uplifting.
"I hope I get to see our patients when they have their beautiful smiles back," she said.
And she is looking forward to a new kind of lifestyle. Working weekends for more than a decade has left her without a sense of place.
"Festivals!" she said. "I have not been able to go to any in years!"
She has never been to the Saturday Market, Westobou Festival or the Blind Willie McTell Music Festival. These days, she's making a lot of plans – from what events to enjoy, to how to use the new Cricut machine she has purchased, to planning an event of her own: a wedding. Simon is engaged to her fiancée, Jacob, a caddy at the Augusta National. They are hoping for an April Fool's wedding in 2023.
In the meantime, she's enjoying her four grandchildren by her 23-year-old daughter, Meghan – Hudson, 6; Mac, 3; Brooklyn, 2; and the baby, Aurora Grace – and proudly watching her 20-year-old daughter, Cierra, in nursing school at Georgia Southern, while her son, 16-year-old Trevor, has already completed high school.
With her family doing well, she is looking forward to a long career at the DCG. "Everyone here is like family," she said. "I feel so appreciated."