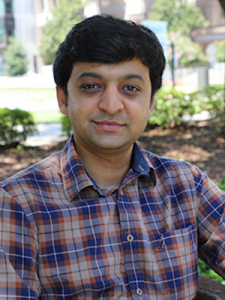 Harshit Singhania
Degree:PhD in Oral Biology and Maxillofacial Pathology 
Hometown: Andrew Yeudall, PhD
Area of Research:  Investigating the coordinated role of EPS8 and SOX2 in regulating head and neck squamous cell carcinoma (HNSCC) stemness and oncogenic functions
Why did you choose your degree program (and biomedical research at AU)?
I am a dentist from India and I believe that a treatment becomes useful and valuable if it is based on the best evidence and coupled with the right equipment, methods, and technology. Thus, I wanted to pursue biomedical research to equip myself with the tools which would enhance my skills and broaden my knowledge in the field. The collaborative environment encompassing intrinsic dental specialties, biomedical sciences and clinical exposure would be ideal for my research career where I can learn the dynamics of collaborations and hence work on the lines of translational research.
What is the greatest lesson or words of wisdom you have learned from your mentor? 
Learn from your mistakes. Be patient and ask questions.
What have you found most beneficial and enjoyable about your program?
The professors in my program are very supportive and are readily available for guidance. My mentors have been extremely patient and helpful in guiding me with the lab work.
Please share words of advice for someone considering this program and research at AU?
This program offers a great opportunity for pursuing extensive research. The professors are invested in the students' overall personal development. 
Have you been involved in any other AU clubs, groups, activities, committees?  If so, which ones?  What positive experiences have you had as a result of your involvement/engagement?
In addition to serving as the SGA Representative of the Biomedical Student Association (BSA), I am also a member of The Graduate School – Graduate Student Council (TGS-GSC). My active engagement in these committees has given me a platform to organize and be a part of various professional and recreational activities for the students. It has also helped me to learn about different people and their cultures.
What is your Favorite AU memory?
I enjoyed learning new techniques and implementing them to generate data for my research. Throughout my PhD I will make many more memories to cherish for a lifetime.
What do you do for fun (hobbies etc)?  
I enjoy traveling, exploring different cuisines, chatting with friends and binging comedy movies and shows are some of my fun hobbies.