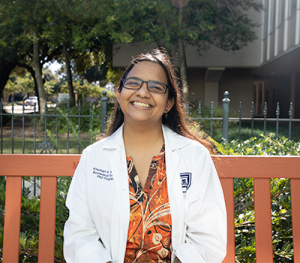 Khadijah Alexander
Degree: Doctor of Philosophy with a major in Pharmacology
Home country: Trinidad, West Indies 
Mentor: Almira Vazdarjanova, PhD
Area of Research:
My project involves examining the role of inflammation in susceptibility to developing Post-traumatic stress disorder (PTSD) after exposure to trauma.

Why did you choose your degree program (and biomedical research at AU)?
The pharmacology graduate program was particularly attractive to me because it is highly collaborative and interdisciplinary.
What is the greatest lesson or words of wisdom you have learned from your mentor? 
"Trust but verify"
What have you found most beneficial and enjoyable about your program?
The pharmacology program is extremely supportive. Everyone is very helpful and are interested in your success.
Please share words of advice for someone considering this program and research at AU?
Everyone will tell you that picking your mentor is the most important decision you will make. I want to expand and add that it is equally important to pick a supportive department. An extended support network can be a huge boost to your resilience and success.
What is your Favorite AU memory?
The first time I saw data that I collected on a graph that I made. The unfettered sense of self and joy intermingled into a feeling that I will chase for the rest of my life.
What do you do for fun (hobbies etc)?  
I play World of Warcraft and Pokemon GO and take care of my plants and fishtanks.