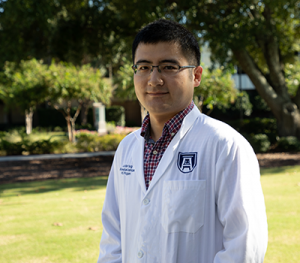 Loudon Yang
Degree:Doctor of Philosophy with a major  in Neuroscience
Hometown: Linyi, Shandong,  China
Mentor: Quanguang Zhang, PhD
Area of Research: Photobiomodulation, Alzheimer's disease, Mitochondria
Project description:
Alzheimer's disease (AD) is characterized by extracellular β-amyloid plaques and intracellular neurofibrillary tangles within the neuronal processes. As such, the vast majority of clinical research for the treatment of AD has been based on the hypothesis that an excess of cerebral Aβ accumulation causes synaptic dysfunction and neuronal degeneration in the AD brain especially in the hippocampus. Originally discovered as a laser treatment for wound healing and hair regrowth, photobiomodulation (PBM), is now being used to treat a multitude of diseases. As an emerging therapeutic technique, perhaps the most impressive application of PBM is for the brain. Evidence has suggested that traumatic brain injury, stroke, neurodegenerative diseases, and psychiatric disorders all respond well to PBM. Using a novel transgentic AD model, our research explores the potential benefits of  PBM in the AD brain.
Why did you choose your degree program (and biomedical research at AU)?
Neurobiology captured my attention with its unique and mysterious nature, as well as its wide range of unanswered questions. I was attracted to AU's advanced research facilities, professional research teams and a strong academic environment.
What is the greatest lesson or words of wisdom you have learned from your mentor? 
My mentor, Dr. Quanguang Zhang, has been an amazing mentor. He encourages me to work and think independently but also provides me with helpful guidance. Laboratory training in Dr. Zhang's lab has helped me develop necessary research skills including the ability to design experiments, propose a research project, prepare and submit grants.
What have you found most beneficial and enjoyable about your program?
The curriculum in the Neuroscience program provides us a well understanding of the neurological disorders and fundamental basic neuroscience knowledge. In addition, I really appreciate neuroscience seminar and neuroscience journal club which offers a very good opportunity to learn and discuss current research.
Please share words of advice for someone considering this program and research at AU?
Advanced research facilities, professional research teams and a strong academic atmosphere in the neuroscience program at AU provides a very good environment for both domestic and international students to experience and pursue a broad base of research interests. If you are interested in neuroscience research and attracted by the beauty of nature and the deep mysteries of brain, you are welcome to join us.
Have you been involved in any other AU clubs, groups, activities, committees?  If so, which ones?  What positive experiences have you had as a result of your involvement/engagement?
I attend the Society for Neuroscience (SfN) annual meeting every year which has provided me with great opportunities to present my work and meet many great scientists working in the same field. During the meeting, I received alot of positive feedback and valuable suggestions on my project, which were really helpful for my research work.
What is your Favorite AU memory?
My favorite AU memory  was  presenting my research at Graduate Research Day. I enjoyed the opportunity to share and discuss my work with fellow AU students and faculty members.
What do you do for fun (hobbies etc)?  
In addition to my research work, I spend most of my time on cooking and doing exercise. I enjoy cooking for my family and playing basketball with my best friends.