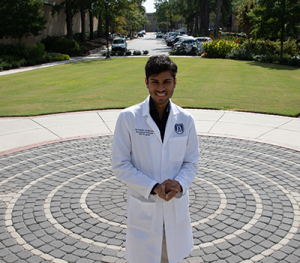 Sai Karthik Kodeboyina
Degree:PhD in Genomic Medicine
Hometown: Ashok Sharma
Area of Research: I study proteins in the Aqueous Humor of the eye. The purpose of this study is to understand their alterations and their connection with clinical outcomes of glaucoma.
Why did you choose your degree program ?
I was always interested in big data analysis and translational aspect of biomedical research. I was intrigued by how large genomic and proteomic data could be applied to understand a wide range of diseases, including cancer and vision related disorders.
What is the greatest lesson or words of wisdom you have learned from your mentor? 
My mentor always emphasizes that in science it is important to "think in the right direction" to facilitate making correct decisions. He asserts the importance of logical reasoning and connectivity in ideas.
What have you found most beneficial and enjoyable about your program?
The Genomic Medicine program is a close knit community with PI's and students helping each other. Also, we get to hone our skills in cutting edge lab and computational techniques.
Please share words of advice for someone considering this program and research at AU?
There is ample scope to find your niche with the variety of research happening at AU. Whether your interest lies in cancer, vision, physiology, biochemistry, neuroscience, there is opportunity for everyone to learn, grow and excel. Our Genomic Medicine program is very translational in nature and graduates have moved on to assume academic and industry careers.
Have you been involved in any other AU clubs, groups, activities, committees?  If so, which ones?  What positive experiences have you had as a result of your involvement/engagement?
I strive towards a well rounded personality. I served as the social chair for the Biomedical Student Association and also the Member of The Graduate Student Council. They have helped me develop a range of skills including leadership, networking, organizational, planning and time management.
List any notable academic achievements (publications, poster presentations, talks, awards, etc).
Certificate of Achievement – Embodiment of Leadership, The Graduate Student Government Association  (April 2019 )
Darrell W. Brann Alumni Award – Outstanding Achievement by a Graduate Student  (Aug 2018)
I also had the opportunity to present my research findings at The Association for Research in Vision and Ophthalmology (ARVO, Vancouver, Canada, 2019) and American Society for Mass Spectrometry (ASMS, Atlanta, GA, USA). I have 6 publication so far and working on 3 first author publications.
What is your Favorite AU memory?
I really enjoyed various social events such as ice cream and spaghetti socials which really helped me get to know my fellow students. I have some many great friends. It was a great opportunity to connect and learn more about Augusta and what the University had to offer.
What do you do for fun (hobbies etc)?
I am a personal stylist. I love fashion,  menswear, physical activity, and travel