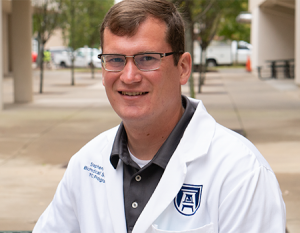 Stephen Haigh
Degree: Doctor of Philosophy with a major in Vascular Biology
Hometown: Madison, CT
Mentor: David Fulton, PhD
Area of Research:Vascular Biology with a focus in Pulmonary Hypertension
Why did you choose your degree program (and biomedical research at AU)?
I had the opportunity to work in Dr Fulton's lab as a lab technician for a couple years and with his encouragement I decided to pursue a PhD.  When I was accepted, it was an easy choice to join the Vascular Biology graduate program and continue with Dr Fulton as my PhD mentor due to the good relationship we already had as well as the great research opportunities.
What is the greatest lesson or words of wisdom you have learned from your mentor? 
Always be curious.  My boss is great at providing new ideas and the reason is that he's always curious.
What have you found most beneficial and enjoyable about your program?
The professors in Vascular Biology are highly engaged and there is a lot of interaction between them and graduate students .  Classes are small and focused and professors are all interested in my research and ask questions to help my research progress.
Please share words of advice for someone considering this program and research at AU?
The Vascular Biology Center  is a great place to do research and be successful as a student.  You have a great chance of getting a predoc fellowship and first author papers in solid journals and you will have constant interactions with the professors (other than just your mentor) in a very collaborative environment.
Have you been involved in any other AU clubs, groups, activities, committees?  If so, which ones?  What positive experiences have you had as a result of your involvement/engagement?
The Biomedical Student Association (BSA) is a nice group of students to meet with and unwind with a drink and food. One of the best parts of Augusta is that there is a lot to do outside the school for little to no extra money including many sports leagues in the area.
What is your Favorite AU memory?
When my NIH F31 grant got funded!
What do you do for fun (hobbies etc)?  
I play tennis, disc golf and ultimate frisbee.  I love to read and hang with friends.