Caryn Bird, a third year biomedical sciences PhD student, and Rachel Vaizer, a medical student, have hosted a series of lemonade stands on the Augusta University campus that raised thousands of dollars to benefit childhood cancer research. It is part of a team effort by the Cancer Cure Crusaders 2018 to raise money through Alex's Lemonade Stand Foundation (ALSF), a national charity with a mission "to change the lives of children with cancer through funding impactful research, raising awareness, supporting families, and empowering everyone to help cure childhood."
During the lemonade stand fundraisers, gallons of homemade lemonade and dozens of freshly baked treats were purchased by Augusta University students, staff, faculty and community members. Events were covered by local news stations who also stopped by for some refreshing lemonade and to spread word of the fundraiser with the community.
"The Augusta University and Augusta communities really came together to support this amazing cause. Some of the lemonade stand attendees had heard about Alex's Lemonade Stand Foundation while others had not – but we were blown away by the overwhelming support the communities showed through their comments and donations," said Bird.

Caryn works in the research laboratory of Dr. Ted Johnson, the Cancer Cure Crusaders 2018 team captain for ALSF's The Million Mile fundraiser. The team's donations were matched by Alex's Lemonade Stand Foundation and earmarked to directly support childhood cancer research in Dr. Johnson's Pediatric Immunotherapy Program at Augusta University.
Students in the laboratory of Dr. Ted Johnson hold lemonade stand fundraisers to "help fight childhood cancer, one cup of lemonade at a time."
On behalf of the team, Caryn said "We want to thank the community for its support of our fundraisers. We have seen personally how ALSF helps fund the research we work on, and we wanted to give back and help raise money to find better treatment options and a cure for childhood cancer! This would not have been possible without your help!"

As of September 30, the team has raised over $44,000 dollars through various fundraising events this year.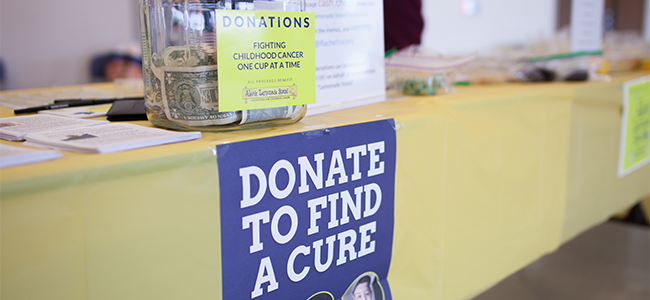 For additional information and coverage: