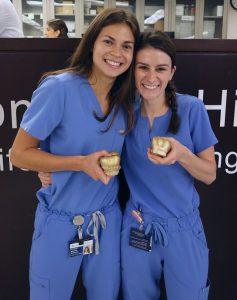 Dr. Ray Jeter, Assistant Professor in the Department of Restorative Sciences, has continued a singular tradition in his Operative Sim Lab (OSL) course. Each year, Jeter presents the Golden Molar Award to one hard-working student. This award was developed by Dr. Kevin Frazier, Vice Dean, to recognize the dentist-in-training who has performed to the highest standards in his OSL course, designed to provide intensive, real-world skills training experiences for scholars.
Five finalists were selected based on each student's overall grades, participation and enthusiasm for operative dentistry. The finalists were Gino Aparicio, Karley Bates, Sarah Brandt, Isabella Gutierrez and Erin Keene. This year, for the first time, Jeter encountered an academic rarity: a mathematical tie between two students. Isabella Gutierrez (left) and Karley Bates (right) tied for first place. Congratulations to the finalists and the winners.
Past recipients of this award include Dr. Naghmeh Majdi of Suwanee Dental Care, Dr. Timothy P. Resuta of SmileATL, Dr. Samira Jafari of Integrative Family Dentistry and Dr. Nasim Doroudgar of Unique Dental Spa.