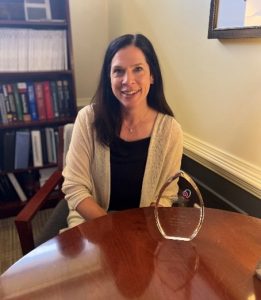 Dean Sullivan and Desmond Moronge were just two of several presenters and award winners at the 2023 American Physiological Society (APS) Summit in Long Beach, CA.
Dr. Sullivan, Dean of the Graduate School, received the prestigious Ernest H. Starling Distinguished Lectureship Award, in recognition of her contributions and dedication to Water and Electrolyte Research. Dr. Sullivan gave an inspiring talk about lessons learned throughout her decades-spanning career as a scientist and mentor to countless trainees.  Check out Dr. Sullivan's latest contribution to the May issue of The Physiologist Magazine highlighting the importance of communication while navigating tough choices.
Desmond Moronge, a fourth-year PhD candidate in Physiology, was all smiles as he presented a poster, gave an oral presentation, and received the Renal section Steven M. Horvath Professional Opportunity Award.
Numerous trainees from the Physiology Department & the Vascular Biology Center (VBC) represented TGS well as poster presenters, oral presenters, award finalists, and awardees across multiple disciplines of physiology.
Communicating and sharing your research is vital to your career development as a graduate student and beyond. TGS provides travel support to trainees with the purpose of advancing professional development and/or presenting their work at regional or national conferences.  Check out the TGS Travel Funds Guidelines HERE
Picture (Above): Past, Present, and Future.  Dr. Sarah McLarnon, 2022 graduate, Sam Walton, 4th year PhD student, and Hannah Godley, research technician and incoming graduate student.
PhD Students
Sati Alexander (Physiology)
Candee Barris (VBC)
Zach Brown (VBC)
Vadym Bunch (Physiology)
Emily Burns (Physiology) *Water & Electrolyte Homeostasis Research Recognition Award Finalist
Katie Anne Fopiano (Physiology) *Cardiovascular Section Research Recognition Award
Hannah Godley (Incoming 1st year)
Steve Haigh (VBC)
Adam Jones (Incoming 1st year)
Taylor Kress (VBC)
Desmond Moronge (Physiology) *Renal Section Professional Opportunity Award
Cody Rosewater (VBC)
Hunter Sellers (VBC)
Mitch Shivers (VBC)
Drew Speese (VBC)
Sam Walton (Physiology) *Abstract of Distinction
Postdoctoral Fellows
Dr. Anil Sakamuri (VBC)
Dr. Irina Baranovskaya (Physiology)
Dr. John Henry Dasinger (Physiology)
Dr. Reem Atawia (VBC) *Cardiovascular Section Outstanding Trainee Award Finalist