2020 has been a whirlwind of a year so far and we're only half way through. Back in January 2020, many entities at Augusta University (AU) began raising funds for the American Heart Association (AHA) through a local event called the "Heart Walk."
All of the individuals who were raising funds were excited to be able to participate in the final celebratory event in March 2020 but COVID-19 had other plans. Due to the COVID-19 outbreak and the local shutdowns that occurred as a result, The AHA pivoted to create a Virtual Heart Walk so individuals could still show support at a safe social distance. The change didn't stop AU from becoming the #1 fundraising organization to participate in the Central Savannah River Area (CSRA) Heart Walk. AU raised $165, 492, making this our best fundraising year yet! The Graduate School (TGS) in collaboration with the Biomedical Student Association (BSA), raised $778.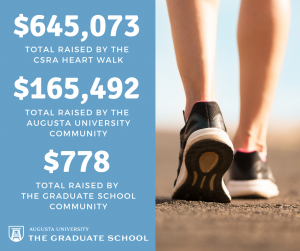 In previous years, TGS has supported the BSA with an event called "Art for the Heart" which was an art auction designed to raise funds for the BSA and AHA. This year the BSA decided to do something a little different. In keeping with the art tradition, the BSA partnered with a local franchise called AR Workshop, which provides DIY art projects for its patrons.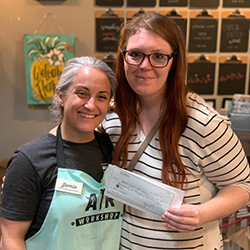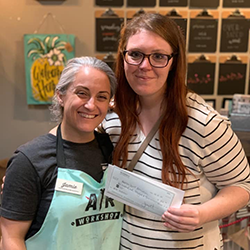 The BSA fundraiser with AR workshop was a success, raising $152 to go toward the AHA Heart Walk. Kasey Belanger, BSA President said, "the AR workshop fundraiser was a lot of fun and it was nice to engage withnot only other students in our program but also other students in a range of programs as well as staff and faculty. We were all a little disappointed not to able to physically gather together with our community to do the Heart Walk but I was pleased to see the students getting together in smaller groups to get outside and still walk in support of the American Heart Association."