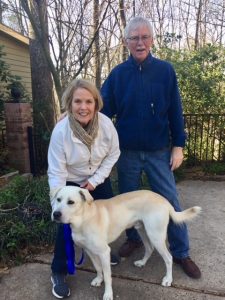 That is the simple philosophy behind the generosity exhibited by Medical College of Georgia alum Dr. John Lee and his wife Betty. The couple have been giving back to MCG regularly since 1982. In 2018, they established the Betty A. and John L. Lee, Jr., M.D. Scholarship, a need based scholarship provided annually to MCG students.
"We have been helped many times over the years personally and academically. We have never forgotten those occurrences. Betty and I believe we should continue helping," explains Dr. Lee. "Our philosophy is, we're all in this together, and by creating a scholarship we hope to make future students' paths easier."
The Lees chose to use an IRA to fund the scholarship endowment. "The federal government allows up to $100,000 to be taken as a direct charitable deduction from an IRA (donation must go directly to charity)," said Dr. Lee. "This allows for that money to be donated without any tax liability (regular IRA) which can be advantageous to the donor."
Now retired, the Lees met when they were both in college in Atlanta, Georgia. Dr. Lee was at Georgia Tech and Betty was at Agnes Scott. Originally from Tallahassee, Florida, Betty decided after high school she wanted a new experience away from home. Atlanta had the lure of a big city, but wasn't too far from her parents who were encouraging her to attend a women's college. Agnes Scott was the perfect choice.
While at Georgia Tech, Dr. Lee majored in civil engineering and was in Navy ROTC. It was during his first deployment after graduation that he became interested in medicine. "We had a doctor onboard and I spent time talking to him. The more we talked the more I became interested in medical school. Upon returning to the states, I requested shore duty so that I could complete my premedical requirements," said Dr. Lee. After serving three years in the U.S. Navy, he began medical school and graduated from MCG in 1975.
It's not surprising that the Lees wanted to give back to MCG and help other students realize the goal of becoming doctors. "A lot of sweat and blood goes into achieving an M.D. degree. The time spent creates great friendships. The environment fosters an appreciation of professors, nurses, support staff and buildings which are collectively MCG. Our loyalty to MCG made us want to do something in return. We are hopeful that many students will derive benefit from the scholarship."